St. Jimmy's Coming...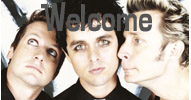 January 1
I found an article online about "The Saints are Coming". It's pretty cool. Click here to read it. It's seven pages. :)
December 31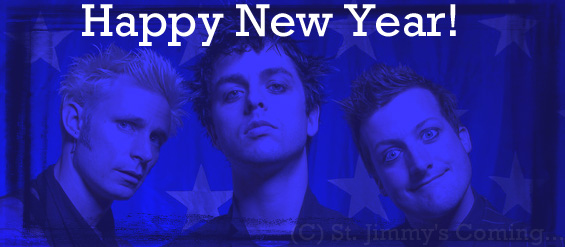 Happy New Year everyone! I have added a new feature called The Video Vault. It has various live videos, music videos, and everything else of Green Day. They are from You Tube so they aren't the best but, I think it should be o.k. If you got a vid you would like to see there, please feel free to e-mail me. I will add a new video every week. Enjoy! :)
December 25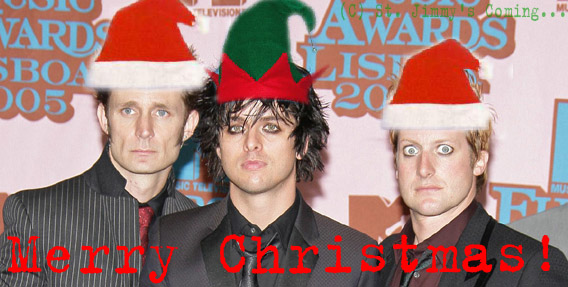 I want to wish everyone a Merry Christmas and a Happy New Year!
December 24
Sorry I haven't updated in a while. WHOO! It's Christmas Eve! LOL! Anyway onto the news.
There is a short article in Rolling Stone magazine about Green Day and the NRDC. Click here to read it. Scan from The Green Day Authority.
In Kerrang! magazine, there is an interview with Billie Joe. He talks about what the new record will be like and stuff. He says it probably won't come out until 2008. Click here to see the scan. Scan from Green Day.cc
And last for today, the Green Day and NRDC site has a new video up. They talk about where they grew up and the oil refineries around there. Click here to watch.
And that's all folks!
December 17
There is a picture of Billie Joe and Jakob in U.S. Weekly magazine. It is so cute! Click here to see it. Scan from Green Day.net.
December 14
I added a new wallpaper. Hope you like it. :)
December 13
The wallpapers are back up. :)
December 11
Saturday was U2's last show of their tour and you'll never guess who joined them in Hawaii for the last show. That's right. Billie Joe. He came out during the encore and played "The Saints Are Coming". There is a 43 second clip of the performance on You Tube. Click here to see it. The Green Day Authority has 2 pics of Billie Joe and U2 at the after party and no you aren't color blind. Billie Joe died his hair blonde again. WHOO!
December 9
Happy Birthday Tre! He's 34 today. Voote.com has some polls up that you can vote on of who you think should win at the Grammy's. Keep in mind though, these votes aren't going to count towards who gets the Grammy. No one votes at the Grammy's which is why I like them. So you can click here to vote.
I made a Green Day lyric quiz on Quizzilla. It's pretty hard. :) Give it a try. Click here.

December 8
Sorry for the lack of updates guys. It's been hectic here. Anyway, in a recent article from the magazine NME, Green Day said they have 3 albums worth of material. That's a lot. You can click here to see the scan. Scan is from The Green Day Authority. And also, Green Day and U2 have been nominated for a Grammy. WHOO! The category is Best Rock Performance by a Duo or Group for "The Saints Are Coming". That rocks. I am so happy that people can't vote for the Grammy's because I think the VMA's and those other award shows are unfair because people vote for them. And I am going to have the wallpapers down for a few days to re-vamp it and stuff. They'll be back up soon. :)
December 4
I have added a new page. It's all about me since I know some of you are probably wondering what music I listen to, if I play any instruments etc. so you can find all of that stuff out on that page. Onto the Green Day news. "The Saints are Coming" music video is currently at #2 at the iTunes store. Tubular! I put the poll back. I have no idea how it got deleted. The question is if I should put downloads on the site. Keep in mind that they will be uploaded to either Megaupload or Send Space.
December 1
HAPPY DECEMBER EVERYONE! Christmas is coming soon! First off, I have archived all of the news updates for November. And a while back I had mentioned that Billie Joe and Adrienne were doing a photo shoot with Punk Rock Confidential for Adeline Street. You can click here to see the cover. It is very...interesting in some ways. :: cough:: Look where Adie's hand is! ::cough cough:: ::Has a look of innocence.:: :) But I think they both look awesome. I love Adie's shoes. :) Click here to go to the site. And you can buy "The Saints Are Coming" (studio version) on iTunes now but you have to buy the whole U2 album. It's $14.99. Click here to buy it.